GBP Site 106 - Miller Creek Trail restoration03/25/2023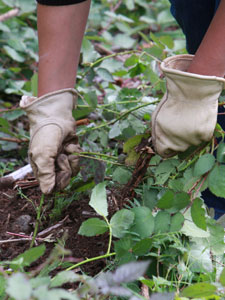 Activities
Ready to get dirty for a good cause? Join us at Miller Creek Trail to:

- Weed and mulch newly planted native trees and shrubs
- Pull out invasive non-native plants
- Clean up litter
Open to the public
All ages OK
10 out of 30 participants registered.
What to Bring
- Gardening gloves/work gloves (we will have some to borrow if you need them)

- Closed-toe shoes are required! (ex: sturdy sneakers, rain boots, hiking boots. No sandals, heels, or flats)

- Layers of clothing that can get dirty

- Long sleeves and thick leg coverings to protect against thorny plants (shorts or capris are not recommended)

- Rain gear -OR- sunblock and a sun hat (be sure to check the weather)

- Full water bottle

- Snacks
Where to Meet
Meet us at the Miller Creek Trail Trailhead! We will walk together as a group to the worksite.
Meeting Location Map
Where to Park
Please park at the Miller Creek Trail Trailhead.